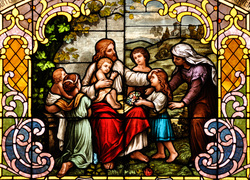 Click on window to see more stained glass windows of the Cynthiana Christian Church (Disciples of Christ)
THE YOUTH WORK OF CYNTHIANA CHRISTIAN CHURCH (DISCIPLES OF CHRIST)

Cynthiana Christian Church is a people who care about and for the children and youth of our community. The children and youth are ministered to and have the opportunity to minister through three main youth groups plus a hand bell choir. The goal is to help our youth know their all-powerful and eternal Jesus.
Our dedicated Youth Director, Brad Allison, works individually as well as with whole groups in most creative ways to help the youth of Cynthiana develop a strong and meaningful faith in Jesus Christ. Melissa Partin, joins in teaching and directing the very youngest youth in a special handbell ministry. Many parents of the congregation back up Brad by sponsoring and assisting them in the many youth activities provided by the church.
MANY of Cynthiana's youth participate in and benefit spiritually, as well as socially, from the Cynthiana Christian Church Youth Groups. The typical meetings are:
*Chi Rho Sundays: 4:30 - 5:30 PM
*Junior Chi Rho: Sundays 5:30 - 6:30 PM
* CYF (High School): Sundays 7:00 P.M. at Brad's house
*Wednesday: Jr. Chi Rho meets at the church from 4:00 - 5:00 P.M.
*Chi Rho and CYF meet at the church for prayer breakfast on Fridays at 7:30 AM. (Call church office for more information.) Bring friends to share the care of Cynthiana Christian Church!
*Handbell Choir practice on the 4th Sunday during the children's church time.
Call the church office (234-5332) for more detailed information.
Parents and Youth, check the news and newsletter for an up to date schedule of the youth activities through out the year.
DEVOTIONAL ACTIVITIES
Children devotional activities can be found by
clicking here
.
Teenage devotionals can be found by clicking here.